Who Organizes the Lollipop Market?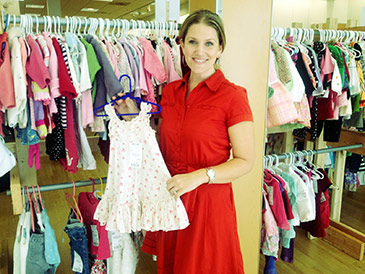 Jennifer Scoggins grew up in San Jose's Almaden Valley, and she studied marketing at San Jose State University. After college, she pursued a career in strategic planning for live events,. That pursuit took her various places around the country. She met and married her husband in Nashville, TN and they had two sweet little girls....just 17 months apart. THAT was when she was introduced to the world of children's consignment.
"I love cute clothes, I love a deal, and I love to recycle in every possible way that I can...so I fell in love with the concept! But I quickly realized that not all consignment experiences are the same. I did not enjoy looking through racks and racks of used clothing that looks like it should have been donated. High end children's consignment was a business I could get excited about, and I I knew my Bay Area friends would fall in love with the concept. I'm thrilled to have brought this sale in the San Jose area, and I love getting to connect with so many like-minded Moms."
When she is not running The Lollipop Market, Jennifer enjoys serving in her community, working alongside her husband,
Chance
, and playing as much as possible with her rapidly growing up children.
If you have a way you would like to partner with The Lollipop Market, she would love to
connect
with you!